Saturday 24 March 2018
Open, 10am–5pm
Free admission
News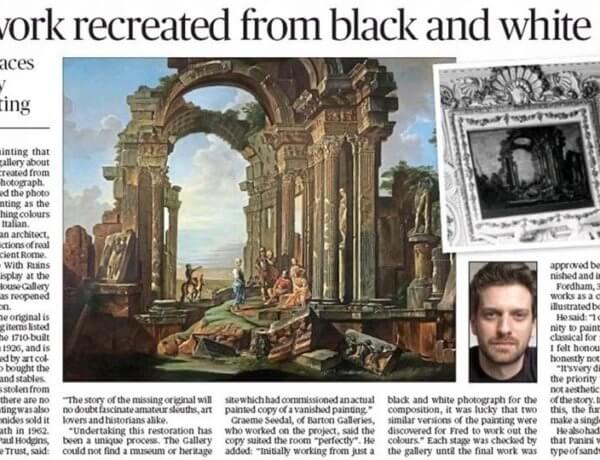 Wednesday 7 March 2018
Did you catch our recreated Panini in the Evening Standard last week? The missing 18th century painting was copied by artist Fred Fordham using a black and white photograph of the original and existing similar…
Wednesday 28 February 2018
After many months of construction and many years of planning our Transforming Orleans House project is at an end! Visitors can now explore the history of the house and surrounding area through exciting new interpretation.…
Wednesday 28 February 2018
As of Thursday 1 March Orleans House Gallery will be open 10am–5pm Tuesday to Sunday. Following the Transforming Orleans House restoration project, made possible by a grant from the Heritage Lottery Fund, the main gallery…
Easter Holiday Activities!
10 April 2018
Easter Holiday Activities: Let's Set Sail! 4+
Work with artist Lucy Evetts to create your very own 3D boat so you can set sail and explore the Wonders of the World by sea! Ages 4+. Drop-off. Materials included. Online bookings are final…
Collection Highlight
Hassell, John
Hampton Court Palace Middlesex
1817
Print of a view of Hampton Court Palace from the Thames with cows in the foreground by Hassell and Wallace from 1817.
Trails
Discover the museums and historic houses of West London with this interactive family scrapbook bursting with fun activities.
Weddings
The newly restored, Grade I Listed Octagon Room is available for civil ceremonies for up to 60 guests. Following the ceremony guests can enjoy a drinks reception in the Octagon Room or on the gallery lawns as pictures are taken against the stunning backdrop of the River Thames and surrounding woodlands.