Tuesday 8 September 2020
Collection Focus – Cardinal Wolsey in Disgrace and History Painting
Our Collection Focus series returns, with volunteer Madeleine detailing a captivating work from the Borough Collection, Cardinal Wolsey in Disgrace.
As a History and History of Art graduate, this within the Richmond Borough Art Collection has always fascinated me as it is one of the more 'unique' pieces within the collection. The majority of the pieces featured within the Richmond Borough Art Collection focus on scenes taking place across the borough portrayed through breath-taking landscapes. Whilst Lucas' scene takes place in the grounds of Hampton Court Palace, a Richmond Borough landmark I'm sure we are all familiar with, his subject is unusual for turn of the 20th-Century works. Taking note of this, I wanted to take this opportunity to discuss the long-standing tradition of history painting alongside Lucas' work.
First thing's first, what exactly do I mean when I say, 'history painting'? To put it simply, history painting is a genre (or type) of painting. However, unlike other genres, history painting is one defined purely on its subject rather than artistic style. For example, small brushstrokes, an open composition and an emphasis on the correct depiction of natural light are artistic techniques and qualities which define the 19th-Century artistic movement, Impressionism. On the other hand, history paintings are characterised by their depiction of a specific moment within a narrative; whether that be a historic event, myth, or biblical story.
The term 'history painting' was first introduced in the 17th-Century to describe those paintings with classical history, mythological, and Biblical subjects. During the 18th-Century, the term began to also refer to depictions of much more recent, 'modern' happenings. However, with the end of the Second World War bringing about the dismantling of the British Empire, history painting diminished from art circles almost entirely.
Saying this, history painting was ultimately viewed as the most important of genres from its introduction until the 1850s when there was a marked shift towards more intimate subject matter. At its peak, history painting ranked above portraiture, genre painting (depiction of scenes from daily life), landscape and still-life painting, and was argued to have been the crème de la crème of a painter's career.[1]
There is no doubt that history painting has enjoyed a long-standing and well-respected place within the history of art. But after delving into its history, which predominantly takes centre stage during the 17th and 18th Centuries, I am extremely intrigued to find out more about John Seymour Lucas and his painting Cardinal Wolsey in Disgrace; a history painting produced at the turn of the 20th-Century.
John Seymour Lucas (1849-1923) was a Victorian English historical and portrait painter, as well as a well-known costume designer. Lucas had originally trained as a woodcarver but turned his hand to portrait painting and entered first the St. Martin's Lane Art School and then the Royal Academy Schools. Here, he met his wife and fellow artist Marie Cornelissen whom he married in 1877. Lucas began exhibiting at the Royal Academy in 1872 and was consequently elected as an associate member in 1876, then awarded the Royal Academician title in 1898. Whilst Lucas' artistic education involved touring Europe studying the Flemish and Spanish masters in particular, he was first and foremost a history painter with a talent for depicting scenes from the British 16th to 18th-Century Tudor and Stuart periods.
As I very gently touched upon previously, the significance of history painting diminished after the breakup of the Empire which took place after the Second World War. Despite our painting, Cardinal Wolsey in Disgrace, not centring around the British Empire, this is an incredibly important detail to keep in mind when contemplating why John Seymour Lucas, a 19th and 20th Century artist, was creating history paintings long after the peak of the genre.
The British Empire was a popular subject for history paintings during the 19th Century as it was one of the few ways the British public could experience their overseas counterparts. In this sense, history painting became a form of documentation. This resurgence of history painting as an important and contemporarily significant artistic practice in the 19th and 20th Century lends answers to the questions surrounding Lucas' choice in subject. What initially seems to be a bizarre choice in subject matter becomes clearer when placed in the context of Imperial Britain. However, this still does not account for Lucas' rendering of Cardinal Wolsey in Disgrace. Why has Lucas chosen to depict a historic event which took place centuries before him?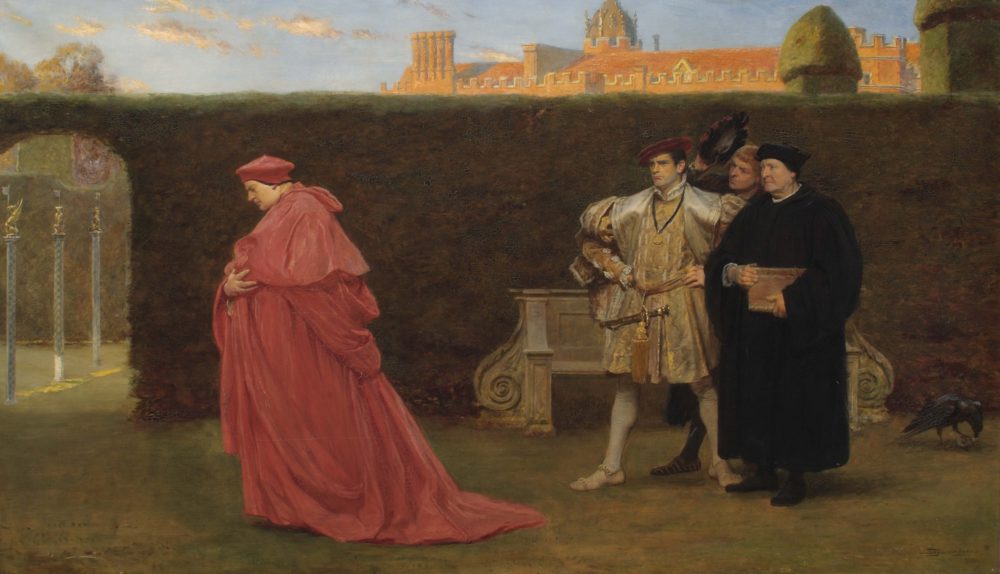 The answer is surprisingly straight-forward; Cardinal Wolsey and his dramatic degradation within Henry VIII's court is one of the most enduring and well-known images of the Tudor period. Undertaking a quick Google search of 'Cardinal Wolsey in disgrace artwork' demonstrates just how popular this iconography has been to artists throughout history.
Lucas' own rendering of the events take place within, what can be assumed, the gardens of Hampton Court Palace which peeks out from behind an immaculately trimmed hedge. Lucas' manipulation of light here cannot go unnoticed. The hues of orange and blue here work hand-in-hand with each other to create a spotlight effect onto the exposed upper level of the Palace. The dazzling quality of the orange tones here draw our eye into the work and we almost forget we are looking at a painting with a historic story. Below Hampton Court Palace, the chiaroscuro is elevated once again by contrasting the dark, shadowed greens of the garden walls. First and foremost, Lucas has locked our gaze into his rendering of Hampton Court Palace, and we are entirely fixated.
As we reluctantly come away from the magnificence of Hampton Court Palace, our eyes are abruptly stopped by a figure dressed all in red; Cardinal Wolsey. Lucas' detail in his rendering of Wolsey's robe and facial expression is incredible. Given the events, it is not surprising that Wolsey appears pale and sickly. He is hunched over, bears a slight scowl, and furrows his eyebrows. At this moment Wolsey had lost everything, including his residence at Hampton Court Palace. In 1529, Wolsey was stripped of his government office and property and was arrested due to his failure in securing an annulment of Henry VIII's first marriage to Catherine of Aragon.
Looking more closely at the work, Lucas has placed a raven by Thomas Cranmer, Archbishop of Canterbury who aided Henry VIII's case for the annulment of his marriage. Ravens are typically a symbol of bad luck and death and have been argued to have been the messengers of tragic news. On the surface, Lucas' choice to include a raven within the work ultimately coheres with the events surrounding Cardinal Wolsey's arrest and future death. However, the significance of the raven cannot just be applied to one of the figures; it can also be applied to Henry VIII and Thomas Cranmer. We all know the story of Henry VIII and his 'bad luck' in finding a suitable wife who could bear a male heir, but Thomas Cramner also had an unfortunate end to his life. After being accused of encouraging heresy and composing heretical writings, Cranmer was brought to trial for treason, found guilty and condemned to death in 1553.
It is incredibly easy to become engrossed by the artistic techniques, such as subject matter, placement of symbols and motifs and choice in colour palette, employed by the artist within a work of art and I could go on forever discussing the details of Cardinal Wolsey in Disgrace. However, observing the artistic practice involved within the creation of a work naturally leads us to an examination of the artist, his/her influences and the historical context surrounding the work. Ultimately, taking note of the history behind artists and their work is vital in gaining a deeper understanding of what exactly you are looking at, as well as talking about.
If you would like to view John Seymour Lucas' Cardinal Wolsey in Disgrace for yourself, you can visit its page on our website here or arrange a visit at the gallery! Over 4,400 works within the Richmond Borough Art Collection have been digitally archived; here, you can search and view them at your heart's content.
Madeleine Luxton
I have recently graduated from the University of East Anglia with a degree in History and History of Art. I am thoroughly enjoying my time exploring the art world and have already become enamoured with one of London's hidden gems – Orleans House Gallery! Volunteering at Orleans House Gallery has allowed me to meet fellow art enthusiasts and to broaden my passion in helping the art world become much more accessible. My favourite artists are Edouard Manet, Diego Rivera, Robert Rauschenberg and Tracey Emin.
[1] TATE, "History Painting – Art Term," TATE. https://www.tate.org.uk/art/art-terms/h/history-painting.